Marie Skłodowska-Curie Action: Postdoctoral Fellowships (MSCA - PF)
Faculty of Safety Engineering, VSB-Technical University of Ostrava invites interested experienced researchers of any nationality, who have a PhD degree and maximum eight (8) years of research experience after having obtained the PhD degree, to apply for the EU-funded Marie Skłodowska Curie Action Postdoctoral Fellowship (call HORIZON-MSCA-PF-2023) to conduct research here for.
Founded in 1849, VSB - Technical University of Ostrava (VSB-TUO) is a Czech public university with a long tradition in high-quality engineering education and research. These traditional core values have been continually updated to reflect current state-of-the-art technologies and the ever-evolving needs of industry. VSB-TUO has strong links to industry and thrives on applied research, in cooperation with companies and institutions worldwide, in finding innovative solutions to modern day issues.
The Faculty of Safety Engineering offers unique fields of studies focused on safety engineering and fire protection. Its main research areas include fire protection, industrial safety, occupational and process safety, technical safety/security of persons and property and civil protection. Each department have their own deep focus in interesting subject as shown below.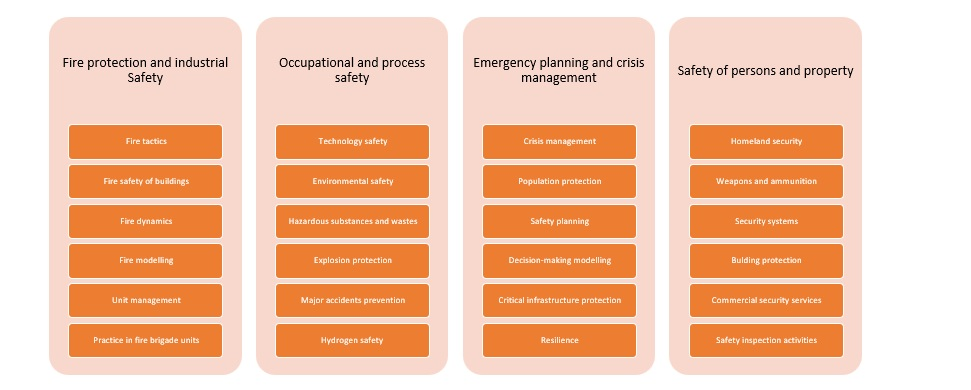 VSB-TUO has implemented the Charter & Code for researchers and been granted the HR Excellence in Research (HRS4) by the EU Commission and is part of the EU network for mobility of Researchers EURAXESS. Practical information about relocation to the Czech Republic can be found at the EURAXESS CR website.
Useful links: